Bangladesh Joins '50-in-5' Campaign as A First-Mover Country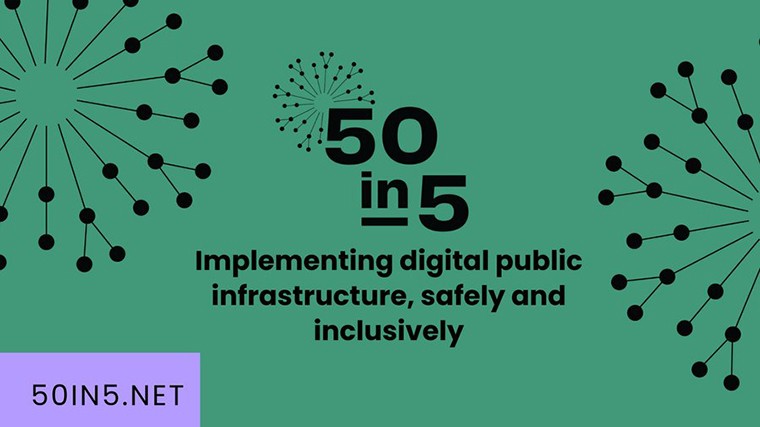 Inspiring Momentum and Collaboration in the Safe and Inclusive Implementation of Digital Public Infrastructure Worldwide
C.B.Desk: Bangladesh proudly announces its participation in the global '50-in-5' campaign as one of the 11 First-Mover countries committed to implementing digital public infrastructure (DPI) in a safe, inclusive, and interoperable manner. This groundbreaking campaign marks a transformative chapter in the development of DPI as a critical accelerator of the Sustainable Development Goals (SDGs). Bangladesh joins as a First-Mover country alongside Estonia, Ethiopia, Guatemala, Moldova, Norway, Senegal, Sierra Leone, Singapore, Sri Lanka and Togo.
The campaign brings countries together to radically shorten DPI implementation journeys by sharing learnings, best practices, and purpose-built technologies, including digital public goods (DPGs), which can ultimately reduce costs and maximize impact. The goal of the campaign is for 50 countries to have designed, implemented, and scaled at least one DPI component in a secure, inclusive, and interoperable manner within five years, by the end of 2028. The campaign underscores participant countries' unified commitment to working together toward this goal.
'50-in-5' is a collaborative, country-led campaign with coordination support from the Bill & Melinda Gates Foundation, Centre for Digital Public Infrastructure Co-Develop, the Digital Public Goods Alliance (DPGA), and the United Nations Development Programme (UNDP) and is supported by GovStack, the Inter-American Development Bank, and UNICEF.
For Bangladesh, being a first-mover country in the '50-in-5' initiative represents an embrace of digital cooperation. The process involves learning from others while sharing our own experiences, thereby contributing to the realization of our digital public infrastructure ambitions and extending support to other nations. Through this campaign, we intend to foster more innovative and inclusive economies, making frameworks, knowledge, and technologies available for the benefit of all countries.
Bangladesh aims to harness this economic potential by embracing digital public infrastructure, ultimately reducing societal inequality and bridging the digital divide. Bangladesh has already enlisted three solutions in the prestigious DPG Registry, which signifies a significant achievement in our commitment to digital public goods. These solutions include ekShop Marketplace; Grievance Redress System (GRS) & NISE Skills and Certification.
Initiatives like MyGov, ekShop, and NISE are open-source, offering benefits to other countries as well. Nations such as Somalia, Fiji, South Sudan, the Philippines, Jordan, Turkey, and Yemen are adopting DPGs from Bangladesh, enhancing the citizen-centric nature of their services.
The implementation of DPI requires collaboration and the sharing of valuable insights, approaches, and best practices with other countries to enhance the journey. The event presents an opportunity for global participation in such endeavors. Through the '50-in-5' campaign, Bangladesh seeks to become a global participant in the advancement of digital public infrastructure, actively contributing to the realization of a world without a digital divide. As Bangladesh joins the '50-in-5' campaign, it embraces the collective effort to build a digital future that empowers individuals, fosters innovation, and bridges the digital divide. Alongside other participating nations, Bangladesh stands ready to drive change, set an example, and harness technology for the greater good.
Global Cooperation for Impact
Digital public infrastructure, which constitutes a secure and interoperable network encompassing digital payments, identification, and data exchange systems, serves as a vital component for countries striving to enhance their economies and the well-being of their citizens. It forms the bedrock upon which citizen services are constructed, playing a fundamental role in driving improvements across various sectors, including food security, financial inclusion, social protection, and the economic empowerment of women across entire populations.
The core principle of the 50-in-5 initiative is collaboration. First-Mover countries represent diverse geographic regions and income levels, yet they share a common commitment to adopting best practices in the development of their digital public infrastructure. This commitment extends to the sharing of insights and technologies as an integral part of the process, as well as the experimentation with innovative approaches to foster digital cooperation.